HD-4 Series Double-Wall Thermal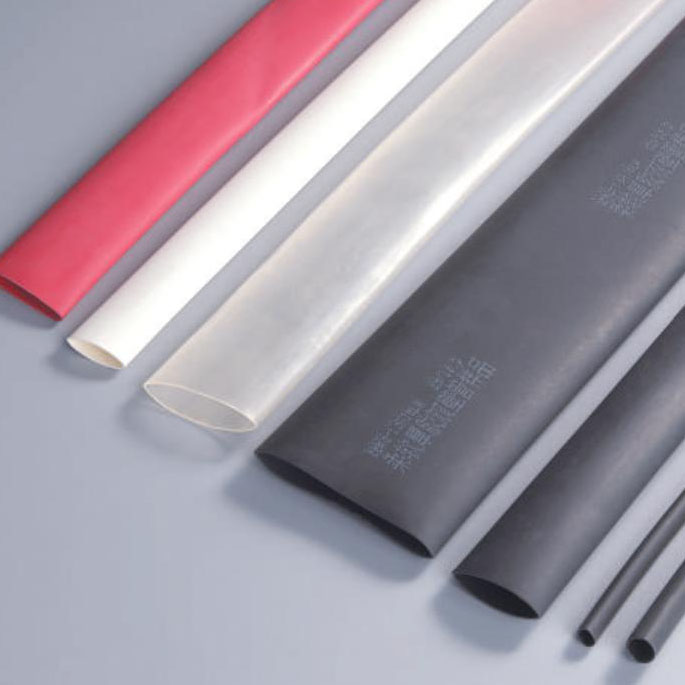 Features and application
1. HD-4 series is a semi-conducting thermal shrinkable bushing coated with a layer of thermosol inside.Its external layer consists of radiation cross-linked polytheneand its internal layer is the specially designed adhesive internal wall. When it is heatedthe internal thermosol will shrink to the external wall and fill the clearance.When it is cooled,the thickness of double walls is very even and solid.It is widely used for the wate-tightness and air-tightness of wiring for electronic equipmentsthe sealing of wiring branchrust protection of metal wires, and the remedy of wires and cables .It can prevent the polymer chains from loosening and faIlingsuch as pool lampauto pipelineand advanced lines.
2. Features:
Application:-40¡æ¡«50¡æ;
Initial shdnking temperature:70¡æ;
Full shrinking temperature:125¡æ;
Melting temperature of internal adhesive layer:70¡æ¡«80¡æ;
Shrinking ratio:3:1(The larger magnification shrinkage may be provided according to customers¡¯demands.) Sealwater-proofstrong flexibility. convenient useable to shrink when heated with oven or hot air gun;timely supply and delivery;and large production.
Color standard:Black(Other colors are upon the clients¡¯needs).

Specification
Dimension before shrinking (mm)
Dimension after shrinking (mm)
Standard packaging
Application
(mm)
mm
Inch
Internal diameter
Wall thickness
Wall thickness
Internal diameter
¦µ2.4
3/32
2.7¡À0.5
0.7¡À0.15
0.30¡À0.10
0.8
100(m/disc)
0.9¡«2.2
¦µ3.2
1/8
3.2¡À0.5
0.9¡À0.15
0.35¡À0.10
1.0
100(m/disc)
1.2¡«3.1
¦µ4.8
3/16
4.8¡À0.5
1.0¡À0.15
0.40¡À0.10
1.6
100(m/disc)
1.8¡«4.6
¦µ6.4
1/4
6.4¡À0.5
1.2¡À0.15
0.45¡À0.12
2.2
100(m/disc)
2.4¡«6.4
¦µ7.9
5/16
8.0¡À0.5
1.3¡À0.15
0.50¡À0.12
2.7
100(m/disc)
2.9¡«7.7
¦µ9.5
3/8
9.6¡À0.5
1.4¡À0.15
0.50¡À0.12
3.2
1.22(m/sec)
3.4¡«9.4
¦µ12.7
1/2
12.8¡À0.8
1.6¡À0.20
0.50¡À0.12
4.2
1.22(m/sec)
4.4¡«12.5
¦µ15
5/8
15.0¡À0.8
0.8¡À0.20
0.50¡À0.12
5.2
1.22(m/sec)
5.4¡«14.8
¦µ19.1
3/4
19.6¡À0.8
2.0¡À0.20
0.50¡À0.12
6.3
1.22(m/sec)
6.5¡«18.8
¦µ25.4
1
25.4¡À0.8
2.1¡À0.20
0.50¡À0.12
8.5
1.22(m/sec)
8.8¡«25
¦µ30
5/4
30.5¡À0.8
2.2¡À0.20
0.60¡À0.15
10.2
1.22(m/sec)
10.5¡«30
¦µ39
3/2
39.8¡À0.8
2.4¡À0.20
0.60¡À0.15
13.5
1.22(m/sec)
14¡«9
¦µ50
2
50¡À0.8
2.7¡À0.25
0.70¡À0.15
17.0
1.22(m/sec)
17.5¡«49
¦µ64
5/2
¡Ý64
3.0¡À0.25
0.70¡À0.15
21.0
1.22(m/sec)
22¡«62
¦µ75
3
¡Ý75
3.0¡À0.30
1.00¡À0.20
25.0
1.22(m/sec)
26¡«72
¦µ90
7/2
¡Ý90
3.0¡À0.30
1.00¡À0.20
30.0
1.22(m/sec)
32¡«88
¦µ100
4
¡Ý100
3.0¡À0.30
1.00¡À0.20
34.0
1.22(m/sec)
36¡«90
¦µ125
5
¡Ý125
3.0¡À0.30
1.00¡À0.20
42.0
1.22(m/sec)
44¡«125